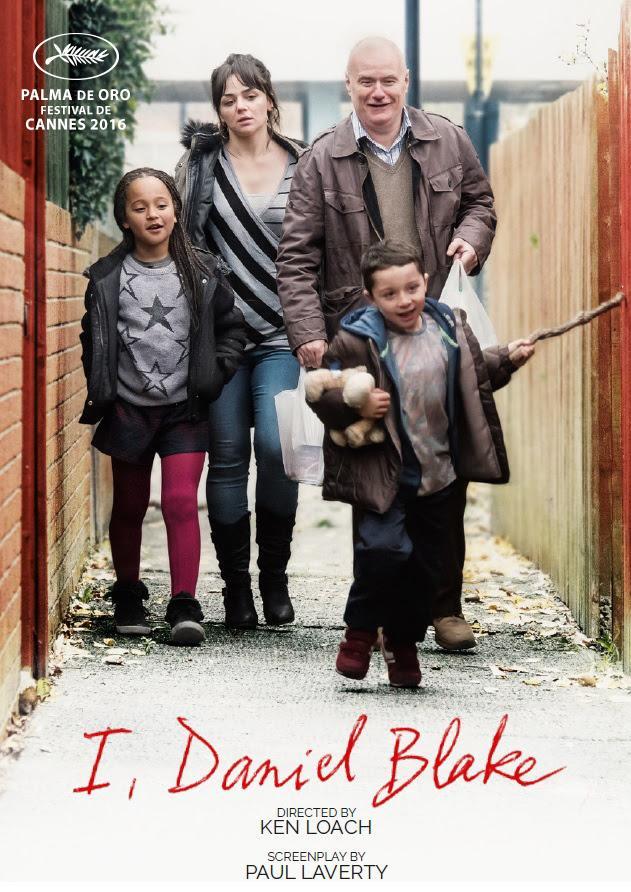 Ken Loach damns the British welfare system with angry ferocious "issue film" and wins a Palme D'Or for his efforts.
Ken Loach, the 80 year old British stalwart of humanist kitchen-sink cinema, is the most selected film-maker ever at Cannes and has shown films in competition a record 13 times (including his last 5 films). His selection often draws jeers from some about what dirt does he have about the Cannes selection committee (and commander in chief Thierry Fremaux), but Loach shut down that conversation by winning his second Palme D'Or winner for I, Daniel Blake, a decade after winning his first one (for The Wind That Shakes The Barley (2006)).
And he might as well, as he arrives with the mad fury of the righteous citizen shaking his fist at the government that has forgotten him. Paul Laverty, his regular screenwriter, crafts a scenario that seems like it's already been seen in any number of "issue film" over the years. We see an old man, the said Daniel Blake of the title (Dave Johns, wry, tough and human), a carpenter who suffers a heart-attack and who is caught amid the catch-22 of the horribly insensitive (as we are told) British welfare system as he is subject to abject poverty. His misfortunes are relayed by contrasting them with the setbacks suffered by Katie (a very good Hayley Squires), an unemployed single mom of two, who has recently moved to Newcastle.
These two inexorably decent people bond over shared frustrations and defeats as they battle on to lead a respectable life, something which proves extremely challenging. Even though Laverty says that the stories are based on real ones that came up through their research, the film abounds in clichés, old and new, that routinely populate such "issue films". The old man who cannot use computers and is stopped in his tracks by a computer mouse, the single mother sleeping hungry while giving all the food to her kids, the old man facing trouble to recruit for new jobs are all tropes we have seen even though Loach and Laverty try their best to make these situations sting with renewed outrage.
The pattern of the scenario seems to be to fling every new humiliation at the characters so the situation can get exponentially worse every time. And some of these indignities can be seen coming a mile off as the film rushes through them as if through a checklist almost – when a young man offers to help Katie find a job that he can get her, it leads to exactly what you would expect. These kind of "issue films" can often resemble exploitation films, only instead of lopping of the characters' limbs and body parts, the film-makers chip away at the characters' self-respect and self-worth.
That's not to say that it is a screaming hysterical woe-be-me film in the vein of say Lee Daniels' Precious (2009). Far from it, the film is strongly directed by Loach with his usual unvarnished visual style. The palette seems even drabber than usual to attend to the grim story. All scenes are staged with a maximum amount of understatement (George Fenton is listed as the composer but does not intrude upon any scene to sensationalize it) and play as they would in real life with life-like performances from both the lead performers and other members of the cast. This formal approach can make some of these scenes even more powerful for audiences and Loach might yet succeed to draw a rise out of you in some scenes, as he does in the stirring scene where Katie humiliatingly succumbs to hunger in a food bank.
This is an intensely political film for being such a quietly humble film but does not contextualize the calamity portrayed in any larger national, financial or sociological terms. It might make the film more human and more widely dispersible but it can also be akin to pointing a finger at an injustice and running away. Is the film worthy of the Palme D'or? I don't think so but it yet provides a worthy, engaging look at the plight of many working class people who the government has turned a face away from and Loach and Laverty are absolutely doing them a service by damning the dehumanizing bureaucracy of a broken welfare system in such a public way on the world stage. The film should play well for festival audiences and might specially appeal to British audiences as a shared experience of torment that many of them go through.
3/5